Discover more from Winvesta Crisps
Learn about US stocks before you invest. Your daily boost of newsworthy stories and deep dives in a bite-sized format. Reading time ~3 minutes.
Over 22,000 subscribers
The Domino Effect - Apple Stock Split Brings DJIA Shuffle
What you need to know before the US markets open 🇺🇸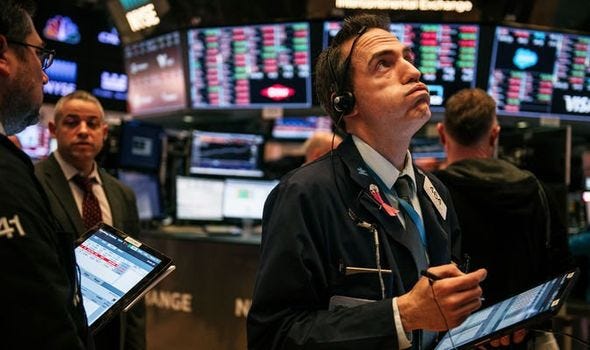 Hey Global Investor, here's what you need to know before the US markets open.
Market Snapshot 📈
S&P 500 (Monday Close) 3,431.28 +34.12 (1.00%)
NASDAQ (Monday Close) 11,379.72 +67.92 (0.60%)
FTSE 100 (5 PM IST) 6114.68 +9.95 (+0.16%)
NIFTY 50 (Today's Close) 11,472.25 +5.80 (0.051%)
USDINR (5 PM IST) 74.22 (1 Year +3.71%)
---
The Dow Shuffle – Apple's Stock Split Brings About Major Changes
On Monday, the S&P Dow Jones Indices announced a significant recast of the Dow Jones Industrial Average. The Dow is switching out Exxon Mobil, Pfizer, and Raytheon, and replacing them with Salesforce, Amgen, and Honeywell, the first three-stock change since 2013.
What Happened? The Dow is price-weighted, meaning stocks with higher share prices are given greater weightage. Apple's announcement of the 4-for-1 stock split meant the 30-stock benchmark's exposure to technology was lowered from 27.6% to 20.3%. To bring the DJIA's tech weight back into range, Exxon Mobil will make way for cloud-based CRM giant Salesforce.com. At the same time, biopharma company Amgen will replace pharma giant Pfizer; industrial conglomerate Honeywell will take the place of defense contractor Raytheon Technologies.
This recast will help diversify the 124-year old index by eliminating overlap between companies of similar scope; in many ways, the index will be a better reflection of the American economy.
Stock splits within DJIA are rare. The last was Nike's 2-for-1 split in 2015, with Apple being just the 18th since 1999. [As an aside, Apple has single-handedly lifted Dow by 1400 points in 2020].
The recast is effective August 31st with UnitedHealth Group, Home Depot, and Amgen taking the top three spots. Apple drops to 17th from the top spot

Market Reaction: After-hours, Salesforce shares rose 3.8%, while Exxon Mobil shares retreated 1.6%. Amgen rallied 4%, while Pfizer shed 1.6%; and Honeywell rose 3.7%, while Raytheon dropped 3%.

The DJIA closed 1.35% higher at 28,308.46, just 4% shy of its all-time high of 29,568.57 which was recorded on February 12, 2020.
Snapshot 📈
CRM $208.46 +0.93 (+0.45%)
AMGN $235.57 -2.07 (-0.87%)
HON $159.37 +1.87 (+1.19%)
DJI 28,308.46 +378.13 (+1.35%)
---
Newsworthy 
📰
Great Timing: Unity's IPO filing shows how big a threat it poses to Epic and the Unreal Engine 

Helping Hand: General Atlantic, Sequoia Capital pushing Oracle's bid for TikTok (ORCL +1.48%)

Sooner than Expected: Amazon Go's cashierless tech may come to Whole Foods as soon as next year (AMZN +0.69%)
---
Later Today 🕒
6:30 PM IST: Case-Shiller national home price index (year-over-year)

7:30 PM IST: Consumer confidence index

7:30 PM IST: New home sales (SAAR)

9.00 PM IST: Richmond Fed President Tom Barkin speaks

After Market Close: Intuit Inc Earnings

After Market Close: Salesforce Inc. Earnings
---
Fun Fact of The Day 
🌞
Bill Gates wanted to call Windows as Interface Manager
---
You can start investing in US stocks with platforms like Winvesta. Get an account in as little as 15 minutes and start building your global portfolio today.