Tech Still Driving Wall Street Gains
Here's what you need to know before the US markets open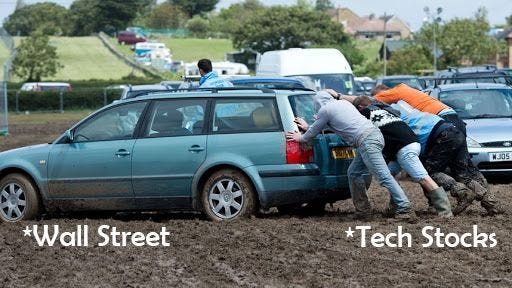 Hey Global Investor, here's what you need to know before the US markets open.
Market Snapshot 📈
S&P 500 (Monday Close): 3,251.84 +27.11 (0.84%)
NASDAQ (MondayClose): 10,767.09 +263.90 (2.51%)
FTSE 100 (5 PM IST): 6293.91 32.39(0.51)
NIFTY 50 (Today's Close): 11,162.25 +140.05 (1.27%)
USDINR (5 PM IST): 74.63 (1 Year +8.55%)
---
Tech Still Driving Wall Street Gains
Tech shares rallied, Wall Street gained ground, and Nasdaq broke a record on Monday.
What Happened? S&P 500 and Nasdaq both gained yesterday, driven by a rally in Microsoft and Amazon shares. The DJIA on the other hand had nominal gains on the back of slow growth in the industrial sector.
Earning reports from bellwethers such as Microsoft and Intel will enable investors to gauge the outlook of the American economy. Amazon saw a 7.9% spike on Monday, seen as a two-pronged beneficiary of the pandemic – in e-commerce as well as cloud services.
Discussions on potential additional stimulus in the US and the EU are also buoying investor sentiment. The EU has reached a historic deal to create a €750B recovery fund to rebuild EU economies. In the US, discussions surrounding a second stimulus package are beginning in earnest.
There are a lot of expectations from the large-cap tech space in the coming days, and it remains to be seen if they live up to the billing.
Market Reaction: The Dow Jones Industrial Average gained 0.1%, to finish at 26,680.87.  The S&P 500 rose 27.11 points to close at 3,251.84. The Nasdaq Composite surged 2.5%, to close at a record high of 10,767.09.
---
Amazon Snapshot
AMZN $3196.84 +234.87 (7.93%)
Analyst Ratings (49 Analysts) BUY 92%  HOLD 6%  SELL 2%
---
Winvesta Speaks 
🎤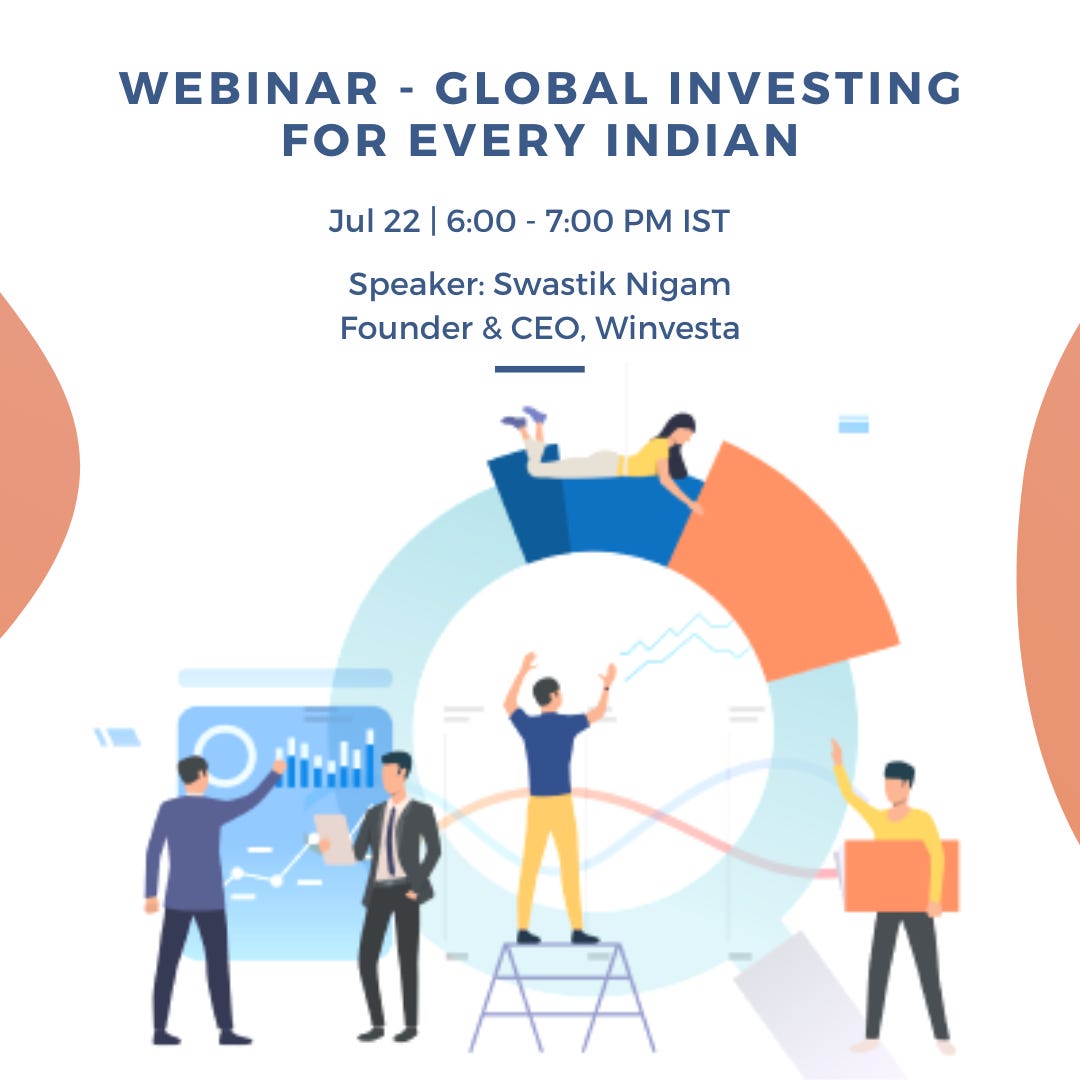 After the overwhelming response to our first webinar on Global Investing, we are delighted to bring you another one! Learn about the 'why' and 'how' of global investing with our Founder & CEO - Swastik Nigam. Register now!
Time: July 22, 6:00 PM IST
---
Newsworthy 
📰
Look Out!: 4 Things To Discover In Snapchat's Q2 Earning Report (SNAP +3.10%)

Mixed Bag: IBM Stock Pops Higher as Earnings Beat Expectations but Sales Decline Yet Again. (IBM +1.01%)

That's Classified: Adevinta Acquires eBay's Classifieds Business Unit in $9.2B deal (EBAY +0.58%)
---
Later Today 🕒
6.00 pm IST: Chicago Fed National Activity Index

11.30 pm IST: Committee Vote on Fed Nominations of Judy Shelton, Christopher Waller

Before Market Open: Lockheed Martin Corp Earnings 

After Market Close: Snap Inc. Earnings
---
Fun Fact of The Day 
🌞
Football Goalies Didn't Have to Wear Different Coloured Shirts from Their Teammates Until 1913.
---
Like what you read? 
❤️
We would love for you to share it with your friends and invite them. Simply forward this email, or share the link to our subscription page.
If you received this email from a friend, then please (a) Subscribe to our newsletter so we can send it straight to your inbox (b) Thank them 😊.