Discover more from Winvesta Crisps
Learn about US stocks before you invest. Your daily boost of newsworthy stories and deep dives in a bite-sized format. Reading time ~3 minutes.
Over 22,000 subscribers
Look Out Microsoft; Twitter is Checking TikTok Out
What you need to know before the US markets open 🇺🇸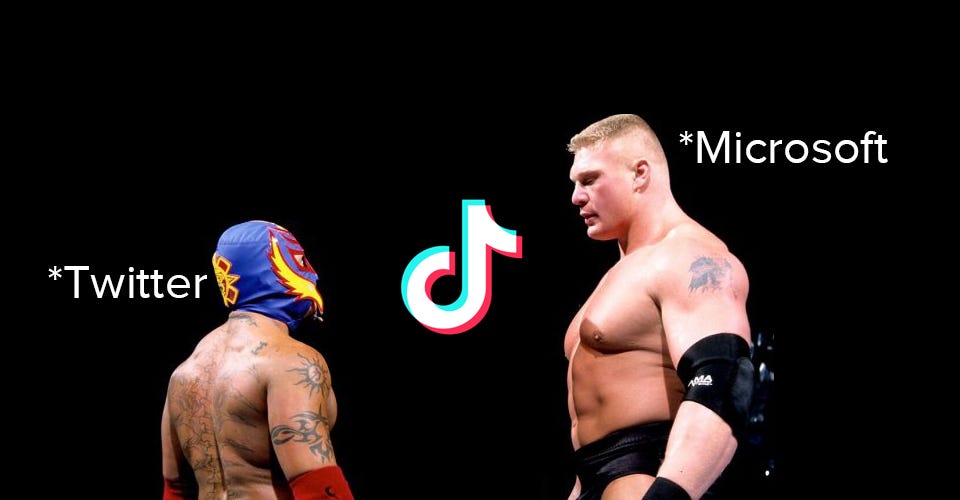 Hey Global Investor, here's what you need to know before the US markets open.
Market Snapshot 📈
S&P 500 (Friday Close) 3,351.28 +2.12 (0.063%)
NASDAQ (Friday Close) 11,010.98 −97.09 (0.87%)
FTSE 100 (5 PM IST) 6056.06 +23.88(0.39%)
NIFTY 50 (Today's Close) 11,270.15 +56.10 (0.50%)
USDINR (5 PM IST) 74.95 (1 Year +5.78%)
---
Look Out Microsoft; Twitter is Checking TikTok Out
Twitter may emerge as a surprise rival to Microsoft over the TikTok deal.
What Happened? Twitter Inc. held preliminary talks with ByteDance to potentially acquire TikTok in the US. It is unclear how Twitter plans to structure the deal. According to a Reuters report, the private equity firm, Silver Lake Partners, a Twitter investor, is interested in putting a deal together.
Only last week, President Trump issued an executive order that bans the popular video-sharing app starting September 15th due to national security concerns, giving Microsoft 45 days to consummate the acquisition.
Microsoft Corp has been negotiating with Beijing-based ByteDance for weeks, to potentially takeover TikTok in the US, Canada, Australia, and New Zealand.  Twitter is considered a long-shot due to its smaller size, and limited upfront paying capacity compared to Microsoft.
However, the saga may draw out other bidders such as Alphabet (Google), Amazon, and Snap Inc. Social media giant, Facebook, might not enter the fray because of antitrust issues.
Market Reaction: Twitter's share closed 1.47% lower at $37.14 on Friday. The stock is up 2.93% before trading hours. 
Twitter Snapshot
TWTR $37.14 -0.55 (-1.46%)
Analyst Rating (39 Ratings) BUY 18%  HOLD 72%  SELL 10%
---
Newsworthy 
📰
Big Profits: Profit up 87% at Buffett's Berkshire, but coronavirus slows businesses (BRK-A +2.24%)

Poisoned Chalice: Bill Gates calls Microsoft's TikTok deal a poisoned chalice (MSFT -1.79%)

We are at War Son: Apple goes to war with the gaming industry (AAPL -2.27%)
---
Later Today 🕒
7.30 pm IST: Job openings
---
Fun Fact of The Day 
🌞
The potatoes were first cultivated in Peru almost 7000-10,000 years ago.
---
You can start investing in US stocks with platforms like Winvesta. Get an account in as little as 15 minutes and start building your global portfolio today.