Discover more from Winvesta Crisps
Learn about US stocks before you invest. Your daily boost of newsworthy stories and deep dives in a bite-sized format. Reading time ~3 minutes.
Over 22,000 subscribers
Global Investing for Every Indian
Zero Commission US Brokerage. Intergrated Multi-Currency Accounts. 15 Min Digital Sign Up.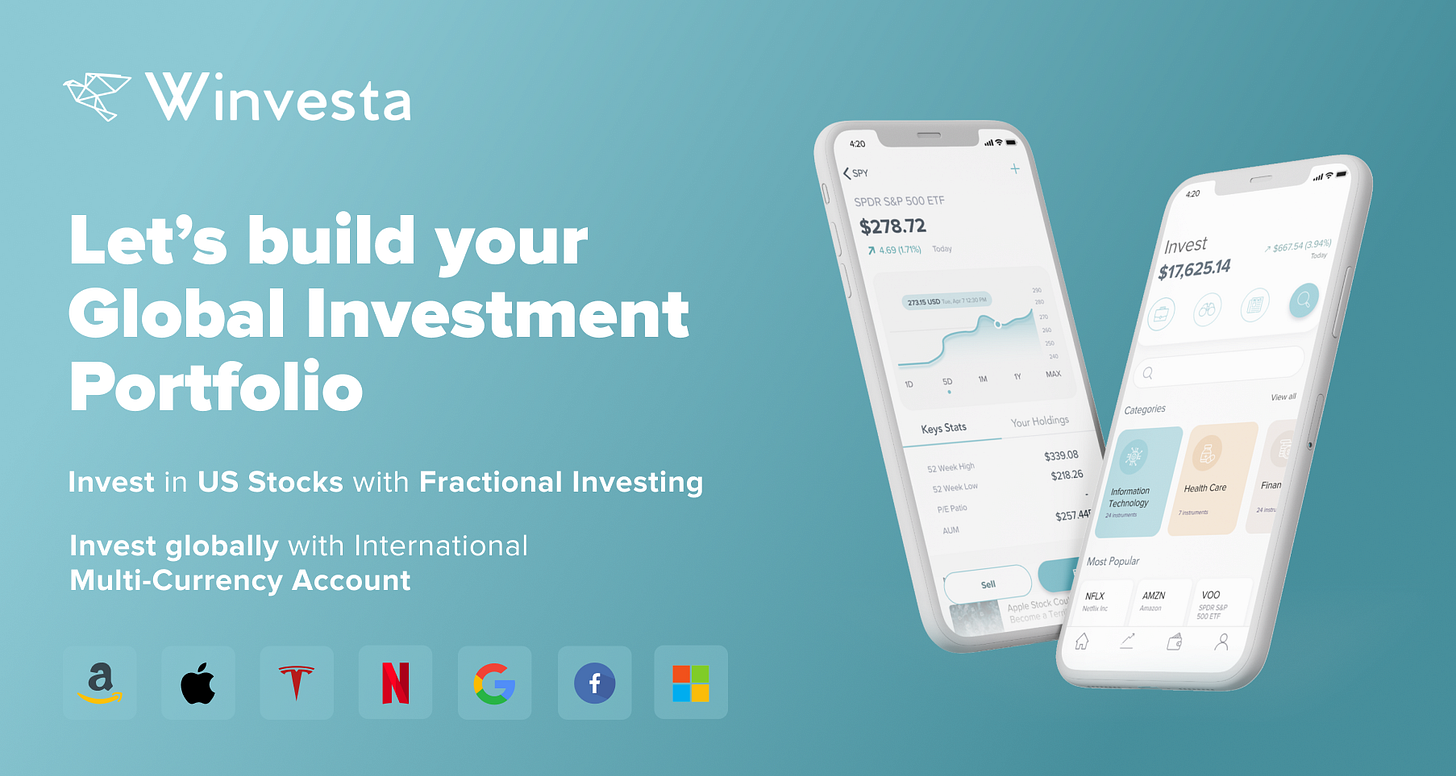 If you are an Indian investor, you have probably identified that you need to diversify your investments and invest globally. You want to invest in companies whose products you consume, whose services you use. Amazon, Netflix, Apple, Google, and Facebook, etc. have delivered phenomenal returns to their investors, and you want in on the action.
Or you've seen the resilience in the western markets, and it just seems like common sense. In the last decade, US markets outperformed Indian markets by a whopping 200+%, and now you can't wait to be a part of that growth.
When we started building Winvesta, we had one mission - to make global investing easier than domestic investing for Indian investors. Today, we are proud of the fact that we can open US brokerage accounts for Indian residents faster than they can open domestic trading accounts.
Our KYC process does not require any document uploads. Just point and shoot the camera. Indeed – no archaic paperwork. All done on your phone in less than 10 minutes.
With our fractional investing feature, you can now invest in fractions of one share. USD 2800 too much to buy one stock of Amazon? Own 1% of one share for USD 28.
We let your money do the hard work and grow, rather than pay nose-bleeding fees. No significant upfront costs. No annual tie-ins. No minimum thresholds.
Our communications are honest. Our terms and conditions are clear and in plain English. A 10-year-old could read them. It says what it does on the tin. No obfuscation, no misdirection.
Winvesta is regulated by the UK's Financial Conduct Authority, one of the most progressive regulatory bodies in the world. Our partners are regulated by the FINRA and SEC in the US. Investor accounts carry a SIPC protection of up to USD 500,000 and an FSCS protection of GBP 85,000. The accounts are created in investors' names and belong to them.
If you are serious about diversifying your investment portfolio overseas, you are not alone. Technology and regulatory advances have made it easier and cheaper than ever to do so. Sign up with Winvesta today and join the 150 million+ investors who invest in the US stocks.