Antitrust Hearing Today – What Will the CEOs Say?
What you need to know before the US markets open 🇺🇸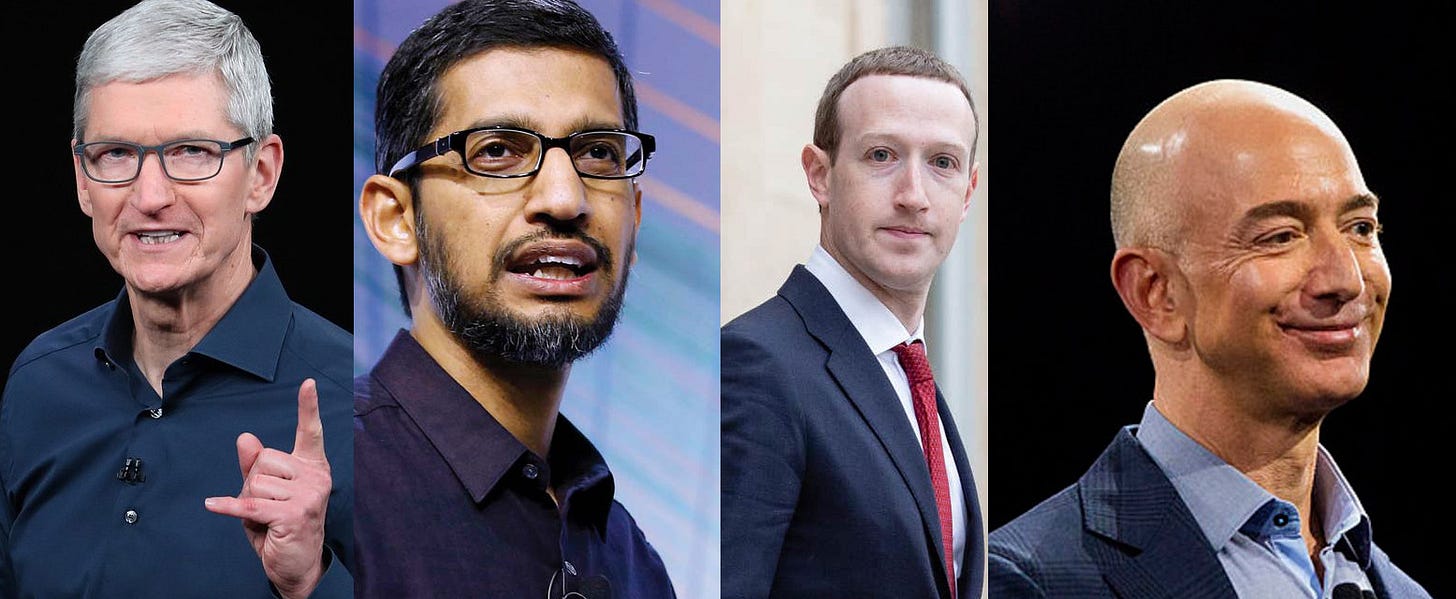 Hey Global Investor, here's what you need to know before the US markets open.
Market Snapshot 📈
S&P 500 (Tuesday Close) 3,218.44 −20.97 (0.65%)
NASDAQ (Tuesday Close) 10,402.09 −134.18 (1.27%)
FTSE 100 (5 PM IST) 6137.50 +8.24 (0.13)
NIFTY 50 (Today's Close) 11,202.85 −97.70 (0.86%)
USDINR (5 PM IST) 74.76 (1 Year +8.95%)
---
Antitrust Hearing Today – What Will the CEOs Say?
Today, the CEOs of the world's four most influential and powerful tech companies – Tim Cook of Apple, Sundar Pichai of Google (Alphabet), Mark Zuckerberg of Facebook, and Jeff Bezos of Amazon – will appear in front of a House Judiciary Antitrust Panel via videoconferencing.
What to Expect?
This is the first time these four CEOs will appear before the lawmakers together. The House panel will grill the executives on their influence over consumers' lives and general business practices. Here's a summary of the prepared statements from the CEOs.
Tim Cook:
He will emphasize Apple's commitment to making the 'best' products and quote Steve Jobs, "We only make things that we would recommend to our family and friends."
Cook will also acknowledge the intense competition in the smartphone market, and will also clear the air about the App Store – the main focus of the antitrust complaints – and will confirm that most developers keep 100% of the money they make.
Cook is also expected to highlight creating 2M jobs in the US and contributing $500B to international commerce in 2019.
Sundar Pichai:
Pichai will talk about Google's commitment to strengthen America's position as a global leader in emerging technology. He will also discuss the company's commitment to user privacy, acknowledge the challenges to growing its business overseas, and clarify that success is not guaranteed.
Mark Zuckerberg:
Zuckerberg will defend Facebook's acquisitions – the focal point of antitrust contention – and highlight the company's goal of building products that are geared for the best possible user experience. He will also touch upon the role of technology in shaping society and end on a defensive note focusing on US laws.
Jeff Bezos:
Bezos will discuss Amazon's aim to continuously innovate its services, features, and products, and underscore the customer-first approach that is Amazon's greatest strength. He will discuss the company's brand, its investment in the country, and other success stories Amazon workers and third-party sellers. He is expected to highlight Walmart, Costco, Shopify, as examples that quash any notion of Amazon stifling competition.
Snapshot
APPL $373.01 -6.23 (-1.64%)

GOOGL $1,503.65 -25.78 (-1.69%)
AMZN $3000.33 -54.88 (-1.80%)

FB $230.12 -3.38 (-1.45%)
---
Newsworthy 
📰
Proceed with Caution: AMD is Set Up for Blockbuster Second Half, But it Isn't Guaranteed (AMD -1.97%)

Howdy Partner!: Vodafone Partners with Accenture to Offer Cybersecurity Services (ACN -0.51%)

Here to Help: Tesla's Musk Says Open to Supplying Batteries to Other Automakers (TSLA -4.10%)
---
Later Today 🕒
6.00 pm IST: Advance trade in goods

7.30 pm IST: Pending home sales index

11.30 pm IST: Federal Open Market Committee announcement

12.00 am IST (July 30): Fed Chair Jerome Powell press conference

Before Market Open: Shopify Inc Earnings 

After Market Close: Qualcomm Inc Earnings
---
Fun Fact of The Day 
🌞
The Most Popular Ice-cream Flavor is Vanilla, then Chocolate
---
You can start investing in US stocks with platforms like Winvesta. Get an account in as little as 15 minutes and start building your global portfolio today.