🥇 What's Up with Gold?
Gold prices hit an all-time high, and other need to know news 🇺🇸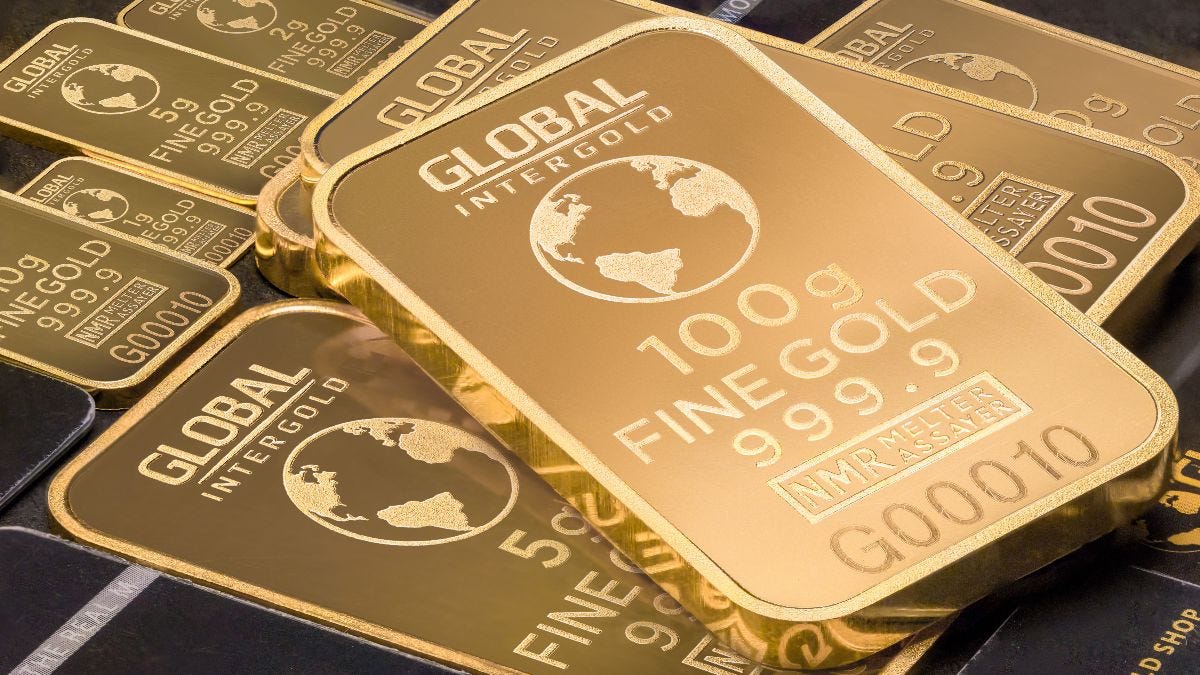 Hey Global Investor, here's what you need to know before the US markets open.
Market Snapshot 📈
S&P 500 (Monday Close) 3,239.41 +23.78 (0.74%)
NASDAQ (Monday Close) 10,536.27 +173.09 (1.67%)
FTSE 100 (5 PM IST) 6109.69 +4.81 (0.07%)
NIFTY 50 (Today's Close) 11,300.55 +168.75 (1.52%)
USDINR (5 PM IST) 74.85 (1 Year +8.59%)
---
🥇Gold Prices Hit an All-time High
Growing concerns about the Covid-19 pandemic and its effect on the global economy is driving investors to look for the traditional safe haven.
What Happened? On Monday, Gold prices rose to a record-high $1,944 an ounce, beating a decade-old record of $1,921 (2011). The demand for the yellow metal continues to surge, as evident from the 27% YTD growth.
There are two critical factors behind the growth:
Investors' preference to park their money

Dwindling yields on the US government bonds
Analysts feel the record run may not be over yet, and the price could cross the $2000 mark before the year-end. A weakening dollar and rising tensions between the US and China could further rally the gold price.
The Federal Reserve will likely maintain lower interest rates for foreseeable future to support economic recovery. The decision has weakened the US dollar, currently trading at a 4-month low against the Japanese Yen and a 22-month low of 0.85 Euros.
The US economic recovery is under pressure as it struggles to control the coronavirus outbreak. The number of cases and deaths continues to rise at an alarming rate, and several 'staggered' reopening projects have stalled. Jobless claims are mounting, and the expiration of unemployment benefits on Friday might bring a fresh set of problems for consumer spending.
Gold Snapshot (GLD ETF)
GLD $182.21 +3.51 (+1.96%)
GLD ETF: Indian residents can now buy physically-backed gold ETF (GLD - SPDR Gold Trust) listed in the US with Winvesta. Unlike physical gold, buyers do not have to pay sales tax and thick spreads on buying GLD. There is also much greater liquidity and safety in GLD investments compared to physical gold.
---
Newsworthy 
📰
Up 'N' Up!:  Nikola Stock Rallied 11%. Here's What's Behind It. (NKLA +10.96%)

See You Next Year!: Google will Keep Employees Working from Home Remotely until July 2021 (GOOGL +1.41%)

Eye-catching!: Shares of US-listed Chinese Search Engine Sogou Pop 48% after Tencent's Takeover Offer (SOGO +48.00%)
---
Later Today 🕒
6.30 pm IST: Case-Shiller national home price index (year-over-year)

7.30 pm IST: Consumer confidence index

7.30 pm IST: Home-ownership rate

Before Market Open: 3M Co Earnings 

After Market Close: Advanced Micro Devices (AMD) Inc. Earnings

After Market Close: Amgen Inc Earnings
---
Fun Fact of The Day 
🌞
The Word Physics Comes from the Greek word, 'Physikḗ,' Which Means 'Science of Nature.'
---
You can start investing in US stocks with platforms like Winvesta. Get an account in as little as 15 minutes and start building your global portfolio today.