Discover more from Winvesta Crisps
Learn about US stocks before you invest. Your daily boost of newsworthy stories and deep dives in a bite-sized format. Reading time ~3 minutes.
Over 22,000 subscribers
🏦 The Swiss Swing – UBS Reports 99% Hike in Net Profit
UBS reported operating profit of $8.9B and 92% growth in pre-tax Q3 profits.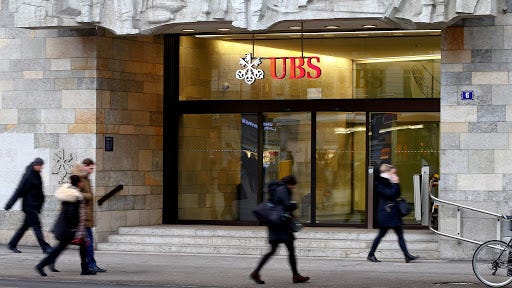 Creator: Arnd Wiegmann | Credit: REUTERS
Hey Global Investor, here's what you need to know before the US markets open.
Market Snapshot 📈
S&P 500 (Monday Close) 3,426.92 −56.89 (1.63%)
NASDAQ (Monday Close) 11,478.88 −192.67 (1.65%)
FTSE 100 (5 PM IST) 5899.20 +14.55 (0.24%)
NIFTY 50 (Today's Close)11,896.80 +23.75 (0.20%)
USDINR (5 PM IST) 73.47 (1 Year +3.19%)
---
The Swiss Swing – UBS Reports 99% Hike in Net Profit
The Swiss Bank reported a net income of $2.1B for Q3 beating Wall Street expectations.
Background: Q2 seems like it happened way back when the global banking industry faced the brunt of the Covid-19 pandemic. UBS was no exception; its net profit had dropped 11%. Fast forward to Q3 and the results couldn't be more dramatically different. Revenues of the Swiss lender and other banks with wealth management divisions surged in Q3, with copious help from client investments and deals.
What Happened? UBS CEO Sergio Ermotti jubilantly reported Q3 results that beat Wall Street expectations by a mile. The world's largest wealth manager generated $2.1B in net income, a whopping 99% jump from the year before.
Key Numbers:
Net profit - $2.1B vs $1.05B last year

Earnings - $0.56 vs. $0.28 the year before

Operating profit - $8.9B vs. $7.08B last year.
In its best Q3 results in a decade, UBS' pre-tax profit grew 92% to $2.6B. The investment banking division grew 268% pre-tax, thanks to the trading spike in equity markets, which compensated for the revenue drop in the advisory segment. 
The wealth management division's profits grew 18% pre-tax, despite flagging recurring fees and client preference into lower-margin funds. However, higher client transactions and $10B in net new loans helped the segment post strong results. The total invested assets reached an all-time high of $2.75B.
The firm has set aside $1.5B for share repurchase next year. The robust showing by the Swiss Bank marks an iconic sendoff for Ermotti. Ralph Hamers, ex-CEO of the ING Group, will replace him on November 1.
Market reaction: UBS stock closed at $11.75, up 1.12%. The price is up over 6% before trading hours today.
Company Snapshot 📈
UBS $11.75 +0.13 (+1.12%)
Analyst Rating (22 Ratings) BUY 59%  HOLD 32%  SELL 9%
---
Newsworthy 
📰
Double Growth: IBM posts double-digit cloud revenue growth; says customers deferring some projects (IBM -0.33%)

All Guns Blazing: Walmart cranks up advertising drive, with or without TikTok (WMT -1.22%)

Shake Hands: Verizon signs up Microsoft, Nokia to help clients build private 5G networks (MSFT -2.48%, VZ -1.29%)
---
Later Today 
🕒
6.00 PM IST: Housing starts (SAAR)

6.00 PM IST: Building permits (SAAR)

After Market Close: Netflix Inc (NFLX) Earnings

After Market Close: Snap Inc (SNAP) Earnings

After Market Close: Avangrid Inc (AGR) Earnings

After Market Close: W. R. Berkley Corp (WRB) Earnings
---
Fun Fact of The Day 
🌞
Humans are the only animals that blush.
---
You can start investing in US stocks with platforms like Winvesta. Get an account in as little as 15 minutes and start building your global portfolio today.