Discover more from Winvesta Crisps
Learn about US stocks before you invest. Your daily boost of newsworthy stories and deep dives in a bite-sized format. Reading time ~3 minutes.
Over 22,000 subscribers
😱 SAP Loses over €29B from its Market Cap
Disappointing Q3 results + forecasts slashed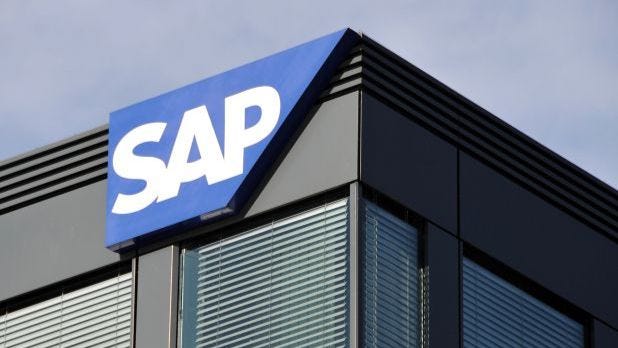 Hey Global Investor, here's what you need to know before the US markets open.
Market Snapshot 📈
S&P 500 (Monday Close) 3,400.97 −64.42 (1.86%)
NASDAQ (Monday Close) 11,358.94 −189.34 (1.64%)
FTSE 100 (5 PM IST) 5800.16 +8.15 (0.14%)
NIFTY 50 (Today's Close) 11,889.40 +121.65 (1.03%)
USDINR (5 PM IST) 73.71 (1 Year +4.45%)
---
The Worst Day In 12 Years – SAP Skids On Profit Warnings
SAP SE, Europe's largest software company by revenue has been a leader in ERP software. After disappointing Q3 results, SAP shares plunged over 23%, wiping ~$35B from its market cap.
Background: Just about a year ago, Bill McDermott, then CEO of SAP for 9 years stepped down from his role. Bill oversaw an increase in SAP's market value from $39B to $156B. Part of his legacy was the acquisition of corporate expense and travel management software firm Concur for $8.3B among others.

Last October, when he decided to step down with immediate effect, the company named board members Jennifer Morgan and Christian Klein as co-CEOs. Within six months, the company abandoned the two-CEO formula. The Covid pandemic exposed the risk of having two top bosses: delays in signing off on decisions, slowing down of operations, competing spheres of influence, to name a few. These internal issues had external ramifications.
What Happened?: Fast forward to yesterday. The German company slashed revenue forecasts for the year and warned its business would be considerably down until the first half of 2021. Alluding to Covid's impact, SAP said it "no longer anticipates a meaningful recovery" in Concur's business for the remainder of the year.
The company also announced plans to go all-in on cloud computing, taking on competitors like Oracle and Salesforce.com. As such, the company is abandoning medium-term profitability targets. This switch from license sales to cloud is expected to clip SAP's 2023 operating margin by 4-5 percentage points.
Questions also abound on the maturity of SAP's cloud products, and the pace of transition of its customers. This uncertainty was enough for investors to dump the stock.
Key Numbers:
Full-year operating profit estimates cut to €8.3B from €8.4B.

Revenue forecast was slashed to €27.5B from €28.2B.
JPMorgan downgraded the stock from overweight to neutral.
Market Reaction: SAP shares plunged 23.16% on NYSE closing at $115.02. The stock is up 3.77% in pre-market trading after it was revealed co-founder and chairman Hasso Plattner bought nearly $300M worth of SAP stock in an effort to shore up investor confidence.
Company Snapshot 📈
SAP $115.02 -34.66 (-23.16%)
Analyst Rating (13 Ratings) BUY 62%  HOLD 23%  SELL 15%
---
Newsworthy 
📰
Gone Shopping: AMD to buy chip peer Xilinx for $35 billion in data center push (AMD +0.33%)

Near Completion: Pfizer's late-stage coronavirus vaccine trial is near complete enrollment with 42,000 volunteers (PFE -0.68%)

Low Demand: Caterpillar reports a 54% drop in sales in the third quarter amid lower equipment demand (CAT -3.20%)
---
Later Today 
🕒
6.00 PM IST: Durable goods orders

7:30 PM IST: Consumer confidence index

Before Market Open: 3M Co Earnings (MMM) 

Before Market Open: Eli Lily and Co Earnings (LLY)

Before Market Open: Pfizer Inc Earnings (PFE)

After Market Close: Advanced Micro Devices Inc Earnings (AMD)

After Market Close: Microsoft Corp Earnings (MSFT)
---
Fun Fact of The Day 
🌞
Marie Curie is the only person to earn a Nobel prize in two different sciences.
---
You can start investing in US stocks with platforms like Winvesta. Get an account in as little as 15 minutes and start building your global portfolio today.