Discover more from Winvesta Crisps
Learn about US stocks before you invest. Your daily boost of newsworthy stories and deep dives in a bite-sized format. Reading time ~3 minutes.
Over 22,000 subscribers
💲 One-Eight-Five for Prop-22!
What you need to know before the US markets open 🇺🇸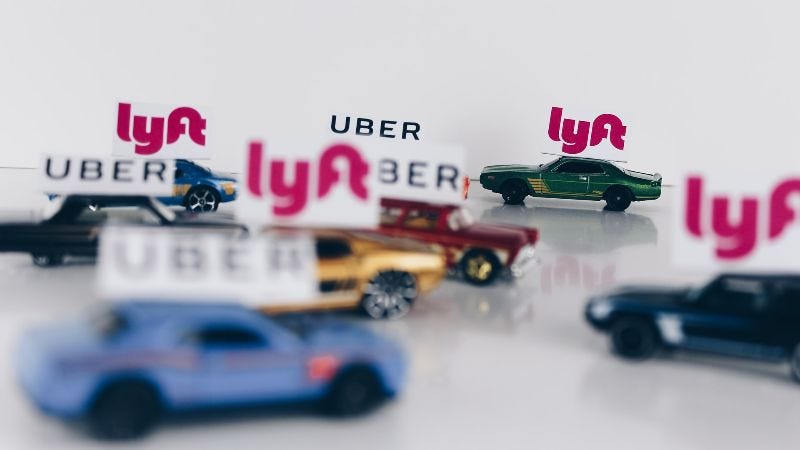 Hey Global Investor, here's what you need to know before the US markets open.
Market Snapshot 📈
S&P 500 (Thursday Close) 3,446.83 +27.38 (0.80%)
NASDAQ (Thursday Close) 11,420.98 +56.38 (0.50%)
FTSE 100 (5 PM IST) 6006.46 +28.43 (+0.47%)
NIFTY 50 (Today's Close) 11,914.20 +79.60 (0.67%)
USDINR (5 PM IST) 73.06 (1 Year +3.07%)
---
One-Eight-Five for Prop-22!
Gig economy giants have spent $185M on campaigning for Proposition 22 for a vote in November.
What Happened? Uber, Lyft, DoorDash, Instacart, and Postmates have had a similar modus operandi. All of the drivers they engage with every day to service customers are treated as independent contractors. They get paid on a gig-by-gig basis. The State of California passed Assembly Bill 5 (AB-5), a law that mandates that these companies treat the independent contractors as employees and make them eligible for minimum wages, unemployment insurance, and other benefits. While this is good for the drivers, there are costs that have to be borne by the companies as a result. As such, their preference is to revert to the old ways of doing business.
That's where Proposition 22 (Prop-22) comes in. Prop-22 is an attempt by the gig-companies to side-step AB-5, which asks employers to prove their workers are independent contractors, including those offering services outside the company's core business. 
Prop-22 undercuts the intended benefits offered under AB-5. For instance, Prop-22 will consider as "engaged time" only when a driver is fulfilling a ride or a delivery request, but not the time spent waiting for the gig. Under this proposal, workers receive $0.30 reimbursement per engaged mile. 
Campaigners for Prop-22 are positioning work flexibility at the center of their social media messaging. For many workers, the ability to work whenever they want by logging into the app has been appealing. Uber has warned that if Prop-22 fails, end customers will have to bear the increased costs, with rides becoming dearer by anywhere from 25% to 111%. The company also expects that over 76% of its contractors in CA would be out of work. 
The nay-sayers have also campaigned aggressively, although they have been outspent by the companies 15-to1. The No campaign argues Prop-22 will strip away a driver's right to minimum wage and other employee benefits. It's going to be a monumental November in more ways than one!
Market reaction: Uber closed at $37.34, up 1.52%, and Lyft was up 3.58% to close at $27.21
Company Snapshot 📈
UBER $37.34 +0.56 (+1.52%)
LYFT $27.21 +0.94 (+3.58%)
---
Newsworthy 
📰
The Show Must Go On: AMC Entertainment expects 520 of its 600 U.S. theaters to be open by mid-October (AMC +2.47%)

Unique Solution: Microsoft is bringing xCloud to iOS via the web (MSFT +0.36%)

Social Cause: Eli Lilly in deal to supply COVID-19 drugs to low-income countries (LLY +3.05%)
---
Later Today 
🕒
7.30 PM IST: Wholesale inventories
---
Fun Fact of The Day 
🌞
Vincent van Gogh only sold one painting in his lifetime
---
You can start investing in US stocks with platforms like Winvesta. Get an account in as little as 15 minutes and start building your global portfolio today.