🚚 Nikola is The New Tesla
Here's what you need to know for markets today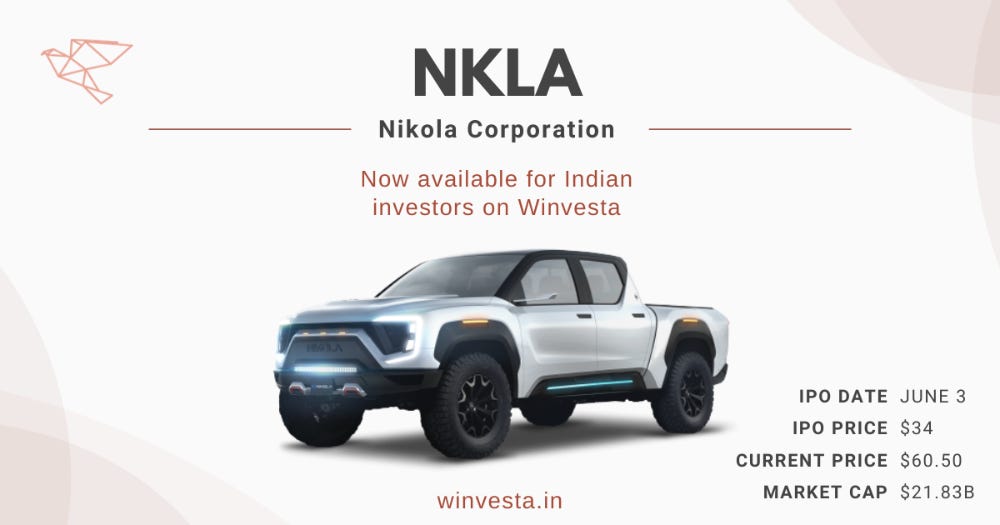 Hey there! here's what you need to know for US markets today.
Market Snapshot 📈
S&P 500 (Thursday Close)
3,002.10  -188.04 (5.89%)

NASDAQ (Thursday Close)
9,0492.73 -527.62 (5.27%)
FTSE 100 (5 PM IST)
6,149.70 +73.21 (1.20%)

NIFTY 50 (Today's Close)
9,972.00 +70.90 (0.72%)
USDINR (5 PM IST)
75.83 (1 Year +9.86%)
---
Nikola - A Worthy Opponent to Tesla?
2 giant corporations named after one genius scientist – Nikola Tesla. Nikola is emerging as a competitor to Tesla's Semi and Cybertruck range, entering the eco-friendly road haulage market at about the same time
What is Happening: Earlier this week Nikola Motors – a company that is yet to manufacture a single vehicle for sale – was briefly worth over $30B. The shares were listed on the NASDAQ only last week and have since seen massive interest from the investors who are looking at it as a Tesla peer. NKLA saw its market cap shoot past those of Ford and Fiat Chrysler before things settled down.
There is a lot of interest and hype around Nikola. For many, Nikola is where Tesla was a few years ago. The company is aiming to manufacture zero-emission, hydrogen fuel cell (or 'fool cells' as Musk calls them) trucks with a range of between 500 to 750 miles. Nikola is setting up a manufacturing plant in Arizona and has already received pre-orders worth $12 billion for its projected truck range. 
What to Expect: Nikola seems to be capturing the imagination of the investor community, mostly as a chief competitor to Tesla, and also as a viable complement to its rival's success.
Nikola also needs to invest in charging networks similar to Tesla. Hydrogen fuel cells are lighter, charge quickly, and provide longer range, but can't be refueled at home. Nikola is planning to build its own charging network with 700 stations to start with.
One thing that is clear is that investors and consumers are taking note of environment-friendly technology and rewarding such innovations through both investments and spending.
---
Newsworthy 
📰
Nose Dive: Dow plunges 7%, marks worst day since March as Fed's grim outlook and rising cases of coronavirus unsettle bulls

WFH Effect: Adobe stock rises as coronavirus work-from-home shift boosts subscription revenue (ADBE -1.38%)

Banking: Bank stocks plunge - it may be an overreaction, longtime analyst says (KBE -9.12%)
---
Later Today 🕒
6:00 PM IST: Import Price Index

7:30 PM IST: Consumer Sentiment Index
---
New Stocks on Winvesta
👉 Nikola (NKLA $60.50 −4.51 (6.94%)): Nikola designs and manufactures electric vehicles including the Nikola One and Nikola Two electric semi-trucks. The company recently announced that it will start taking reservations for the Nikola Badger from June 29. Badger is a hybrid hydrogen/electric pickup truck with an estimated range of 600 miles. NKLA did an IPO last week on NASDAQ at a share price of about $34 and has since seen share prices almost double up.
👉 Intel (INTC $59.70 −4.17 (6.53%)): Intel Corporation is an American multinational corporation which designs, manufactures, and sells computer components and related products. INTC stock price is up about 29% in the last 12 months
Open the Winvesta app to find more details about NKLA and INTC including the historical price chart, latest news, and key stats. 
---
Fun Fact of The Day 
🌞
Your Sneeze Can Travel Faster than a Cheetah
---
Like what you read? ❤️
We would love for you to share it with your friends and invite them. 
If you received this email from a friend, then you may subscribe here: