Discover more from Winvesta Crisps
Learn about US stocks before you invest. Your daily boost of newsworthy stories and deep dives in a bite-sized format. Reading time ~3 minutes.
Over 22,000 subscribers
⚡ Nikola Founder Steps Down Amidst Fraud Allegations
What you need to know before the US markets open 🇺🇸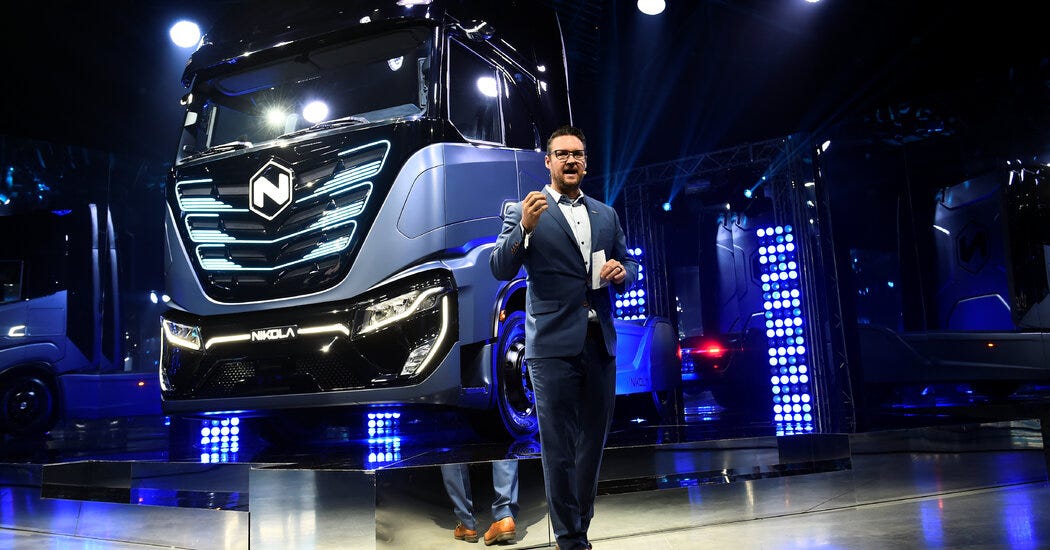 Hey Global Investor, here's what you need to know before the US markets open.
🔥 Winvesta won the Fintech of the Year for Asia Pac in the Barclays Entrepreneur Awards 2020, and is nominated for the Global Award.

You've been an integral part of the Winvesta community, and the reason we've been nominated for the People's Choice Award. But there's not much time left: vote for us while you still can.
---
Market Snapshot 📈
S&P 500 (Friday Close) 3,319.47 −37.54 (1.12%)
NASDAQ (Friday Close) 10,793.28 −116.99 (1.07%)
FTSE 100 (5 PM IST) 5804.26 -202.70(-3.37%)
NIFTY 50 (Today's Close) 11,250.55 −254.40 (2.21%)
USDINR (5 PM IST) 73.56 (1 Year +3.46%)
---
Nikola Suffers A Shock!
Nikola founder Trevor Milton has resigned from the company's board after Hindenburg Research accused the startup of misleading investors.
What is Happening? Earlier this month, Hindenburg Research, which makes money by betting against companies, had published a report alleging a range of misdeeds at Nikola. The report also suggested deception and fraud surrounding the credibility of Nikola's technology. Hindenburg went to the extent of saying Milton made false statements to secure partnerships with automakers.
Hindenburg said it had collected extensive evidence – including phone calls, private emails, text messages, and behind the scenes photographs – detailing Milton's misdeeds. It also claimed the video of Nikola's flagship truck cruising on the road was staged and an elaborate ruse.
The allegations were serious enough to prompt the Department of Justice and the Securities and Exchange Commission to probe Nikola. Just days before these allegations surfaced, GM had announced an 11% stake in Nikola in exchange for $2B of in-kind contributions. As part of the deal, Stephen Girsky, a former vice-chairman of GM who runs VectoIQ, a NY-based investment company that helps fund startups in the auto industry, was added to Nikola's board.
Girsky insisted he had vetted Nikola thoroughly before presenting the deal to GM. GM's CEO Mary Barra and other senior leaders are currently standing by their EV plans with Nikola. GM analysts have also blessed this union, citing only upside for the auto giant since no cash has actually moved from GM to Nikola as part of the deal. According to the agreement the two companies struck, if the deal does not close by December 3rd, either party can terminate the agreement.
With Milton now out of Nikola, Girsky has taken over as the Chairman of the Board with immediate effect. Nikola for its part has vehemently denied Hindenburg's allegations claiming them as "inaccurate." Milton took to Twitter to reiterate his innocence vowed to fight the allegations leveled against him.
Market Reaction: Nikola has been wildly volatile over the year, rising from a humble $13 per share in May to June record of $93.99. On Friday, the stock closed at $34.19, up 1.06%. After the news of Milton's resignation, the stock has plummeted 22.49% in pre-market trading.
NIKOLA Snapshot 📈
NKLA $34.19 +0.36 (+1.06%)
Analyst Rating (5 Ratings) BUY 40%  HOLD 60%  SELL 0%
---
Newsworthy 
📰
Bad Influence: Netflix cancellations surge 'materially' in the wake of 'Cuties' controversy, data shows (NFLX -0.05%)

Drama Continues: China's ByteDance gets Trump nod to avoid TikTok shutdown

This Can't Stand: Judge throws out defamation case against Tesla by former employee (TSLA +4.43%)
---
Later Today 🕒
6.00 PM IST: Chicago Fed national activity index

7.30 PM IST Chicago Fed President Charles Evans speaks

9.30 PM IST: Household debt (SAAR)
---
Fun Fact of The Day 
🌞
Pteronophobia is the fear of being tickled by feathers
---
You can start investing in US stocks with platforms like Winvesta. Get an account in as little as 15 minutes and start building your global portfolio today.