🏦 JPMorgan Posts Record Revenues
Here's what you need to know before US markets open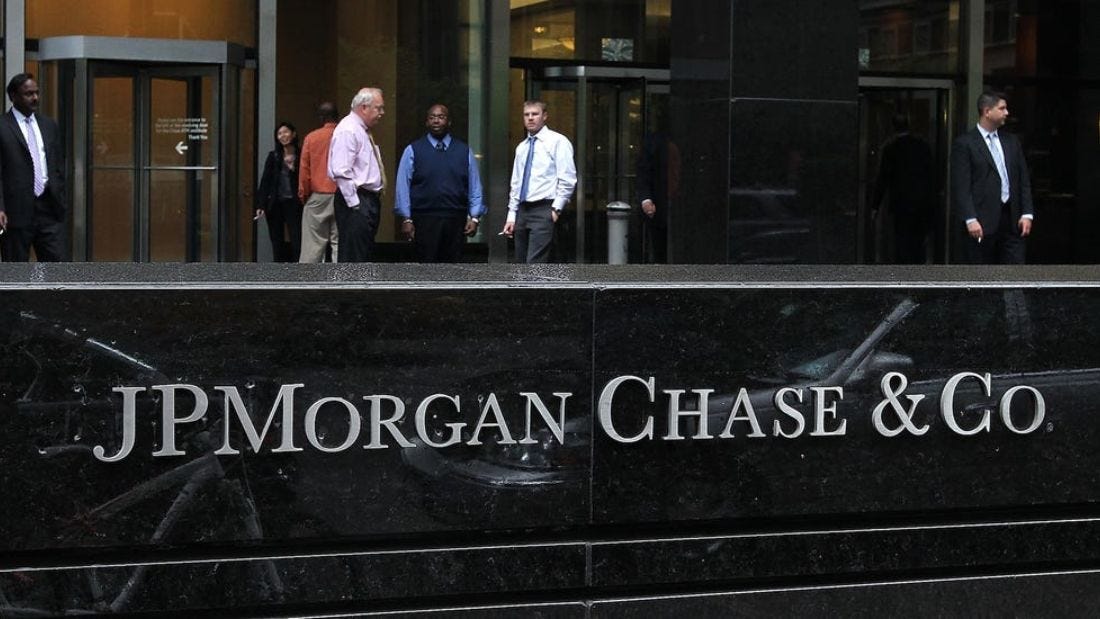 Hey Global Investor, here's what you need to know before the US markets open.
Market Snapshot 📈
S&P 500 (Tuesday Close): 3,197.52 +42.30 (1.34%)
NASDAQ (Tuesday Close: 10,488.58 +97.73 (0.94%)
FTSE 100 (5 PM IST): 6303.16 +123.41 (1.99%)
NIFTY 50 (Today's Close): 10,618.20 +10.85 (0.10%)
USDINR (5 PM IST): 75.15 (1 Year +10.01%)
---
JPMorgan Posts Record Revenues
JPMorgan reported record revenue for Q2 with $4.69 billion in profit.
What Happened? JPMorgan Chase posted a record Q2 revenue of $33.8 billion amidst highly volatile market conditions. The bank earned $4.69 billion in profits in the quarter under the astute leadership of CEO Jamie Dimon.
JPMorgan is among the most prominent retail banks in the US, with a wide-spread network of branches that has fueled most of the lender's dominance in the past decade. The Covid-19 pandemic exposed this division to loan defaults worth billions of dollars across auto lines, mortgages, and credit cards.
However, JPMorgan also is the world's largest Wall Street bank in terms of revenue, a segment it focused on in the years after the '08 crisis. This business has helped the company to leverage opportunities that arose because of the pandemic. Moreover, the steps taken by the Federal Reserve to support the credit markets amidst growing uncertainty and volatility have created an ideal environment for trading as well as advising on equity and debt markets.
JPMorgan's investment and corporate banking segment posted a record $5.5 billion profit for the Q2, helping in squaring losses in two of its four main businesses – commercial and consumer banking. 
The firm also reported record revenue of $9.7 billion from its markets division, mainly driven by strong fixed-income trading. Bond traders posted a 120% increase in revenue from the past year, reaching $7.3 billion. Equities trading had revenue of $2.4 billion, beating the estimated $2.07 billion. The revenue of investment banking also climbed up by 91% to $3.4 billion.
Meanwhile, the retail banking division posted $176 million in losses, and the commercial banking segment had a loss of $691 million for the quarter.
Market Reaction: JPMorgan earned $1.38 per share during the second quarter, above estimates for $1.26 a share. The stock price closed up 0.6% at $98.21 yesterday and is up another 2% pre-market.
JPMorgan Chase & Co. Snapshot
JPM $98.21 +0.56 (0.57%)
Analyst Ratings (26 Analysts) BUY 56%  HOLD 40%  SELL 4%
---
Newsworthy 
📰
Record-Breaking: Citigroup Reports Better-than-Expected Earnings on Strong Trading Results (C -3.94%)

And It's Back Again!: Tesla Stock Surges after Piper Sandler Boosts Price Target Above $2300 (TSLA +1.32%)

Music to My Ears: Facebook to Launch Officially Licensed Music Videos in the US next Month (FB +0.31%)
---
Later Today 🕒
6.00 pm IST: Empire State Index

6.00 pm IST: Import Price Index

6.45 pm IST: Industrial Production

6.45 pm IST: Capacity Utilization 

Before Market Open: Goldman Sachs Company Earnings 
---
Fun Fact of The Day 
🌞
It Takes 12 Pounds of Milk to Produce Just 1 Gallon of Ice Cream
---
Like what you read? 
❤️
We would love for you to share it with your friends and invite them. Simply forward this email, or share the link to our subscription page.
If you received this email from a friend, then please (a) Subscribe to our newsletter so we can send it straight to your inbox (b) Thank them 😊.