🥁 Facebook Launches Facebook Shops
What you need to know before the US markets open 🇺🇸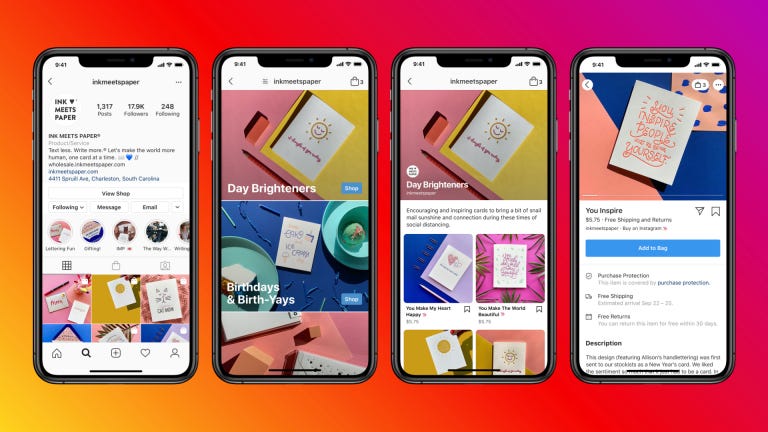 Image credits: Facebook
Hey Global Investor, here's what you need to know before the US markets open.
Market Snapshot 📈
S&P 500 (Tuesday Close) 3,443.62 +12.34 (0.36%)
NASDAQ (Tuesday Close) 11,466.47 +86.75 (0.76%)
FTSE 100 (5 PM IST) 6027.32 -9.69 (-0.16%)
NIFTY 50 (Today's Close) 11,549.60 +77.35 (0.67%)
USDINR (5 PM IST) 74.24 (1 Year +3.05%)
---
Drumroll Please… Facebook Announces Facebook Shop
The social media giant's stock rallied to a new high on Tuesday after the company announced streamlining of shopping options across its social media platforms through Facebook Shop and other e-commerce features.
What Happened? 'Facebook Shop' will allow consumers to browse and shop products from different sellers. This is different from Facebook Marketplace, which is designed for the P2P sale of goods. Sellers set up an online store; consumers access it on both Facebook and Instagram; they select the product(s), checkout, and pay. Currently, Facebook Shop is being tested in the US. Just last month, Facebook launched Instagram Shopping for the photo-sharing app.
The Facebook Shop feature will be available to all eligible businesses, and the checkout feature will be activated on both Facebook Shop and Instagram Shopping in the coming weeks once testing is completed. Facebook will also provide strong analytics tools for businesses to measure and track results better. These new features are expected to give sellers more freedom and control over their digital storefront's look and feel, and enable the customer to access new products and collections.
Facebook is waiving selling fees for businesses until the year-end, in order to encourage them to do business online.

Market Reaction: The Facebook stock was up 3.47%, closing at 280.82. Earlier during trading hours, the price hit an all-time high of 283.09. Facebook's price is up 36% YTD

FacebookSnapshot 📈
FB $280.82 +9.43 (+3.47%)
Analyst Rating (48 Ratings) BUY 83%  HOLD 13%  SELL 4%
---
Newsworthy 
📰
Is the Worst Over?: Coca-Cola Bottler's Pandemic Pain May Be Subsiding (KO +0.61%)

Silver Lining: Tesla may be 'extremely frothy' at these levels, but the stock's 'intraday crater' has a silver lining, trader says (TSLA +0.45%)

Big Gains: Salesforce soars on big earnings beat (CRM +3.64%)
---
Later Today 🕒
6:00 PM IST: Durable goods orders

6:00 PM IST: Core capital goods orders

7:30 PM IST: Richmond Fed President Tom Barkin speaks
---
Fun Fact of The Day 
🌞
Dolphins can live up to 50 years
---
You can start investing in US stocks with platforms like Winvesta. Get an account in as little as 15 minutes and start building your global portfolio today.