Discover more from Winvesta Crisps
Learn about US stocks before you invest. Your daily boost of newsworthy stories and deep dives in a bite-sized format. Reading time ~3 minutes.
Over 22,000 subscribers
🚗 Carvana - The Car Vending Machine Co. Gets Price Upgrades
What you need to know before the US markets open 🇺🇸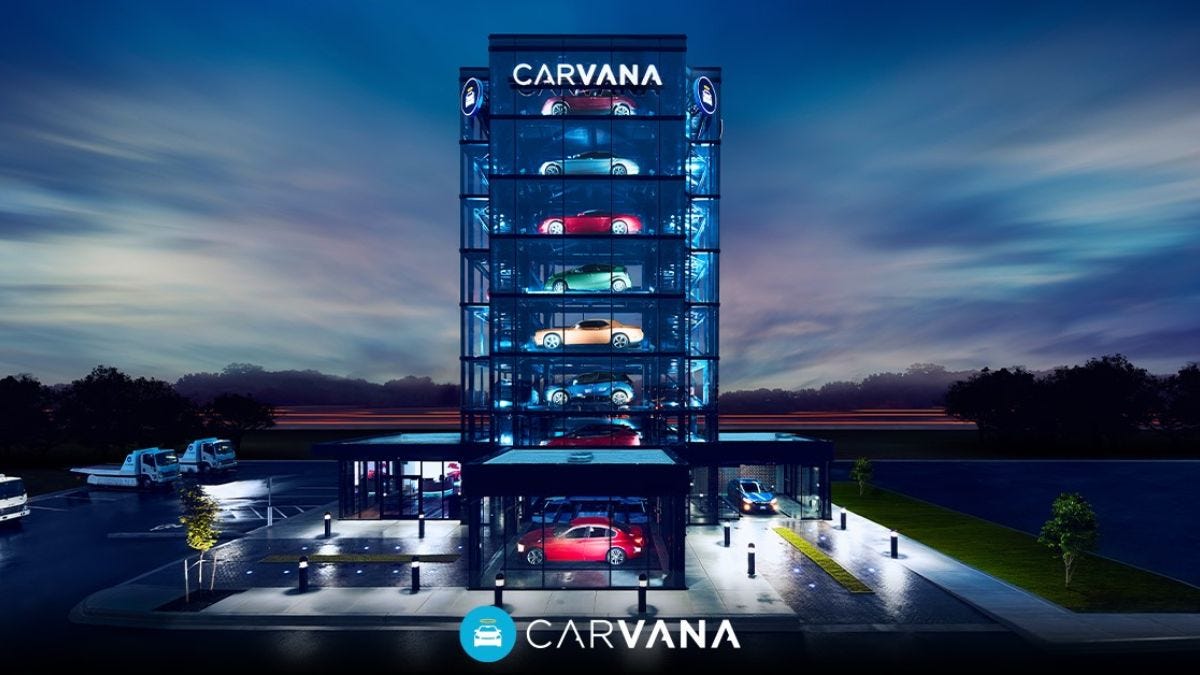 Hey Global Investor, here's what you need to know before the US markets open.
Market Snapshot 📈
S&P 500 (Friday Close) 3,348.44  −32.36 (0.96%)
NASDAQ (Thursday Close) 11,075.02 −251.49 (2.22%)
FTSE 100 (5 PM IST) 5,949.84 +47.72 (0.81%)
NIFTY 50 (Today's Close) 11,503.35 +86.40 (0.76%)
USDINR (5 PM IST) 73.24 (1 Year +3.42%)
Car Vending Machines – That's Carvana For You!
Carvana issued an upbeat assessment of its business. Several equity analysts raised their outlook for Carvana's stock in the past few days.
What Happened? Carvana is a used car selling website that lets customers choose from more than 19,000 cars and complete the purchase in as little as 10 minutes. Buyers can pick up their vehicles from more than a dozen vending machines located around the US, using a giant coin. 
The company is owned by father and son duo Ernie Garcia II, and Ernest Garcia III. The elder Garcia is the largest shareholder in the company, and the son is the CEO. Last year, the Tempe, Arizona-based company sold 200,000 cars and clocked revenues of $3.9B. With Covid-19 hitting people hard, customers are tending to buy used cars rather than new ones. And this trend is benefitting Carvana. 
Since it has no physical dealerships, it can scale much faster at a far lower cost structure. As a result, Carvana sells cars for lower prices than its brick-and-mortar rivals. When the company announced it sees a path to selling 2M cars a year, it caught the attention of Wall Street analysts. Morgan Stanley raised the price target from $23 to $215 with a rating of "equal weight." Piper Sandler had an overweight recommendation and upped the target price from $209 to $265. Wells Fargo went from $175 to $200 with an overweight rating. And Stephens changed its target from $165 to $207. 
The company, which went public in 2017, hasn't managed to turn a profit thus far. However, its stock is up 140% this year. That performance has made the Garcia duo two of the wealthiest people in America. Between them, they're worth upwards of $21B according to the Bloomberg Billionaires Index, which tracks the daily fortunes of the world's richest 500 people.
It remains to be seen if the company will live up to the high analyst expectations. Carvana will be reporting its Q3 results for FY20 later this month.
Market Reaction: The stock closed down 6.47% at 222.70 on Friday. During the pre-market trading today, it's up 1.03% to $225.00. 
Carvana Snapshot 📈
CVNA $220.70 −15.40 (6.47%)
Analyst Rating (21 Ratings) BUY 52%  HOLD 43%  SELL 5%
Newsworthy 
📰
Hitting the Brakes: Tesla stock falls after third-quarter deliveries keep demand concerns alive (TSLA -7.38%)

A Shot in the Arm: Global Stocks Climb on Hopes Over Stimulus, Trump Health

No Breakup: Facebook Says Government Breakup of Instagram, WhatsApp Would Be 'Complete Nonstarter' (FB -2.51%)
Later Today 
🕒
7.15 PM IST: Markit services PMI

7.30 PM IST: ISM services index
Fun Fact of The Day 
🌞
Cats sleep for ⅔ of their lives
---
You can start investing in US stocks with platforms like Winvesta. Get an account in as little as 15 minutes and start building your global portfolio today.