Discover more from Winvesta Crisps
Learn about US stocks before you invest. Your daily boost of newsworthy stories and deep dives in a bite-sized format. Reading time ~3 minutes.
Over 22,000 subscribers
⚕️ Bristol-Myers Squibb Hearts MyoKardia!
What you need to know before the US markets open 🇺🇸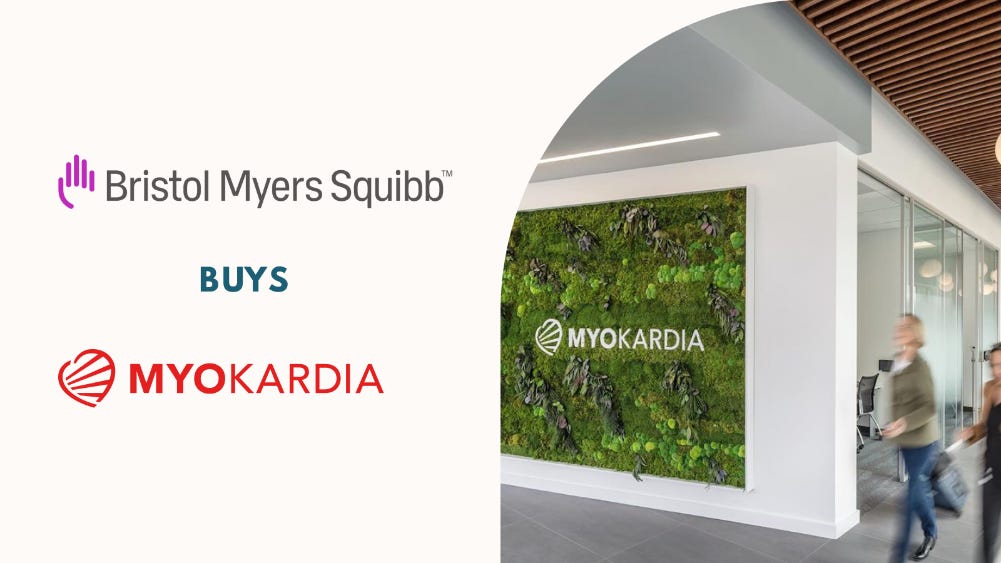 Hey Global Investor, here's what you need to know before the US markets open.
Market Snapshot 📈
S&P 500 (Monday Close) 3,408.63  +60.19 (1.80%)
NASDAQ (Monday Close) 11,332.48 +257.47 (2.32%)
FTSE 100 (5 PM IST) 5,951.95 +9.01 (0.15%)
NIFTY 50 (Today's Close) 11,662.40 +159.05 (1.38%)
USDINR (5 PM IST) 73.45 (1 Year +2.93%)
---
⚕️Bristol-Myers Squibb Hearts MyoKardia!
In an all-cash deal, Bristol-Myers Squibb is buying biotech company MyoKardia in order to acquire its product pipeline.
What Happened? Hypertrophic Cardiomyopathy (HCM for short) might be a mouthful to pronounce. But in the case of executives at MyoKardia, it meant a $13.1B check and a validation of its strategy. The company is a clinical-stage biopharmaceutical company discovering and developing targeted therapies for the treatment of serious cardiovascular diseases.
HCM is a condition in which the heart muscle becomes abnormally thick and makes it hard for the heart to pump blood. This can cause arrhythmia (irregular heartbeats) which can be life threatening. It is the most common genetic heart disease affecting 1 in every 500 people. 
Enter MyoKardia, founded in 2012 and based in Brisbane, California. The company successfully completed Phase 3 trials of its investigational drug Mavacamten and met all of the requirements. The drug will be submitted to the FDA for approval in the first quarter of 2021 for treating HCM. In the company's pipeline are a couple of other products for treating heart failure which are currently in earlier-phase trials. Mavacamten along with its sister products is expected to produce peak annual sales in the $4-5B range. 
Bristol swooped in with an offer that the Board of Directors at MyoKardia could not overlook. The transaction, which values MyoKardia at $225 per share, was unanimously approved by the Boards of the two companies. The acquisition of MyoKardia gives a further boost to Bristol's product pipeline, and adds to the next-generation anti-clotting treatment it's currently working on. Expected to close in Q4 2020, this acquisition will be accretive to Bristol beginning in 2023. 
Market reaction: In response to this announcement, the stock of MyoKardia (MYOK) soared $80.74 or 57.84% to $220.34. Bristol's stock rose 0.82% to $59.20.
Company Snapshot 📈
BMY $59.20 +0.51 (0.87%)
MYOK $220.34 +80.74 (57.84%)
---
Newsworthy 
📰
Alibaba Buys: Alibaba To Pick Up Nearly 10% Stake In Dufry With $763M Investment (BABA -0.01%)

Gold Shines: Gold prices end at 2-week high on dollar weakness, fresh stimulus talk

China Rebounds: China's Economic Recovery Helps Drive Its Stocks Higher
---
Later Today 
🕒
6.00 PM IST: Trade Deficit

7.30 PM IST: Job openings
---
Fun Fact of The Day 
🌞
Ketchup was sold as medicine in the 1830s
---
You can start investing in US stocks with platforms like Winvesta. Get an account in as little as 15 minutes and start building your global portfolio today.